Yunomori offers a wide range of Onsen baths and facilities. From the simple and traditional to the modern and technological, each bath provides a relaxing and therapeutic experience as well as its own set of benefits.
The aquatic therapy of the Onsen has tremendous rehabilitative effects. It is particularly beneficial for patients with acute and post-operative back conditions, arthritis, total joint replacements, and sports injuries. It can also help athletes to improve muscle tone, mobility, balance and endurance.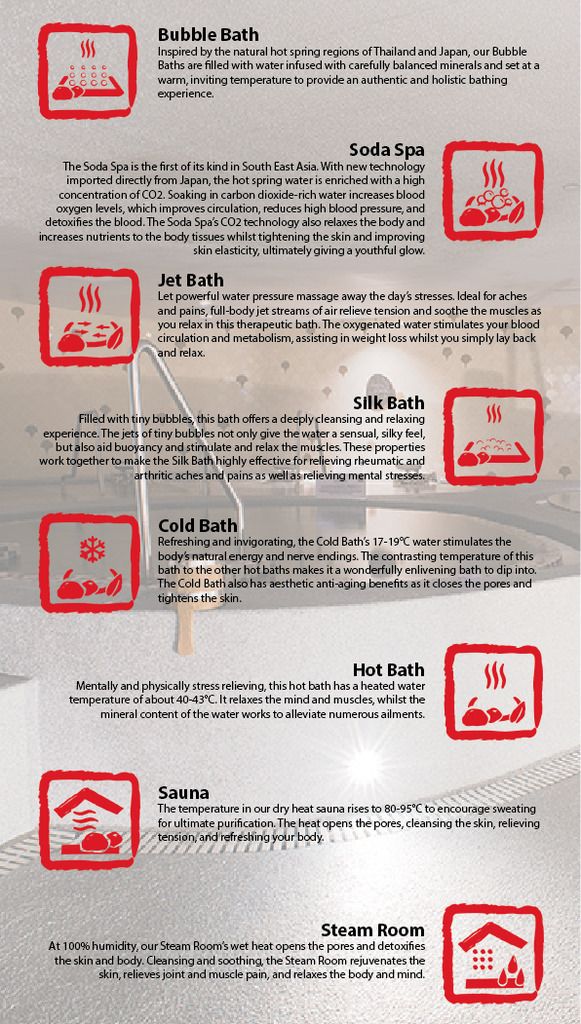 Info
Yunomori Onsen & Spa
For thousands of years, Onsen bathing has been an essential part of Japanese life. The ritual soaking in hot spring waters is considered vital for the relaxation and recuperation of the mind, body, and kokoro; the spirit, or heart.
Onsen bathing is deeply embedded within the historical, philosophical, and social layers of Japanese culture, and it demands strict rule of etiquette be followed. Onsen bathing is a therapeutic endeavor; it is not intended for washing. Individuals thus enter the baths naked and already clean. A quiet and peaceful atmosphere is also very important so that all bathers can enjoy the physical and psychological relief of the Onsen to its full extent.
In these busy modern times, little has changed. Onsen bathing is today regarded as an essential respite from the hectic nature of working life.
Onsen & Spa Benefits
A powerful combination, Onsen and Thai Spa therapies are extremely effective individual treatments for numerous complaints and conditions, and are known to relieve stress and anxiety, soothe joint and muscular pain, improve circulation, aid detoxification, and nourish the skin. When combined together, therefore, they create a potent therapeutic experience that cannot be found elsewhere other than at Yunomori.
Address
1 Stadium Place
Kallang Wave Mall
#02-17/18
Singapore 397628
Operating Hours
Daily :
10.00am - 11.00pm
You can find us here